NWVQHA Queen's Contest

2021 Shows have been canceled NWVQHA Shows
We are looking forward to 2022!
APPLICATION DEADLINE:
Attention Ladies! Are you:
a never-married young woman between the ages of 19-24?
a NWVQHA member in good standing?
interested in promoting the interests of the NWVQHA and the American Quarter Horse?
interested in demonstrating your knowledge of the American Quarter Horse and its registry?
interested in representing the NWVQHA at the 2020 Quarter Horse Congress as our candidate for Queen?
Now is the time to decide to become a NWVQHA Queen candidate. Young women will be judged on poise, personality, AQHA breed knowledge, and a written profile, as well as riding ability. The young woman chosen as NWVQHA Queen will represent NWVQHA at the 2021 Shows have been canceled Congress, all NWVQHA shows, and other NWVQHA functions.
The chosen Queen will also serve on the next year's Queen's Contest committee. The competition will take place during our first show of the season.
Entry Requirements and Selection Criteria
To be eligible for the competition you must:
be between the ages of 19-24 and never married.

show at the NWVQHA shows.
write a 100-word essay on "Why I Would Like to Be the NWVQHA Queen."
take a test on the AQHA rulebook.
ride a horsemanship pattern (to be rode on your own horse or a borrowed horse).
interview by a panel of judges and be scored on poise, personality, and potential.
The decision of the panel shall be final. During her reign, the NWVQHA Queen must uphold a positive and morally correct conduct, both in public and on social media, which includes no drinking, no smoking, no bad language, no inappropriate attire, etc. NWVQHA reserves the right to review any alleged misconduct. Disciplinary action is left to the discretion of the NWVQHA Board of Directors to the extent of having her title revoked. NWVQHA reserves the right to disqualify the winner if attendance is not satisfactory. May be excused for emergencies only. NOT EXCUSED FOR HORSE SHOWS.
We sincerely hope that we have a lot of interest in our local search for our Queen. We feel confident that our girls are some of the most talented young women in the country, and look forward to the competition.
Congratulations to the 2018 NWVQHA Queen, Sydney Ibarra!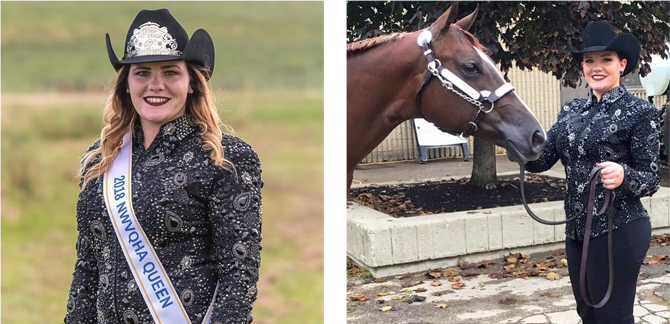 2021 Shows have been canceled NWVQHA Queen Contest Application
Please send this completed form and your essay by to:
Michael Bennett
26 Island Ave Apt A
Buckhannon, WV 26201
Phone: (304) 997-2350
E-mail: [email protected]
** Please include your 100-word essay on the back of the application or on a separate sheet of paper. **
"Why I Would Like to Be the NWVQHA Queen"