Our Show Facility

JW Ruby Research Farm – A Premier Equine Venue
2021 Shows have been canceled NWVQHA Shows
We are looking forward to 2022!
NWVQHA shows are hosted at the premier WVU JW Ruby Research Farm, which is located in a beautiful rural setting on more than 900 acres in Reedsville, WV – just minutes from Morgantown. This pastoral location features numerous accommodations and dining options just a few minutes away by vehicle. The exceptional equine facility on the estate was updated to the highest modern standards with a $6.7 million gift from the Hazel Ruby McQuain Charitable Trust in 2018. Together, NWVQHA and JW Ruby Research Farm take pride in catering to all your equestrian needs with the utmost hospitality. Our helpful, friendly show staff is excited to assist you with all aspects and accommodations related to the show process. Join us and show in a fun, relaxing atmosphere in Reedsville, WV. We hope to see you soon!
Arenas
The JW Ruby Research Farm is a professional facility recognized as one of the top equine show hosts in the United States. The estate features both indoor and outdoor arenas with full holding and warm-up facilities for comfortable year-round usage. All modern amenities are available for horse and rider alike.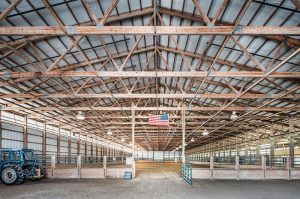 Indoor Arena
Indoor estate features include a state-of-the-art covered 80'×250' indoor arena with a large spectator area, heated restroom facilities, and a sand mixture footing. This ensures an enjoyable experience for riders/performers, spectators, and horses.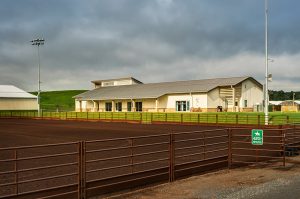 Outdoor Arena
The stately and spacious outdoor arena features a 125'×285' show pen with abundant space for events. The outside show ring is equipped with advanced lighting and sound equipment. Adjacent, exhibitors enjoy access to an 85'×285' warm-up pen with a fully equipped, integrated holding area.
Stalls
There are 93 permanent stalls available, 48 in Multipurpose Building, 33 in the WVU Barn, and 12 Shedrow stalls off the WVU Barn. 36 portables stalls are available as needed.
Northern West Virginia Quarter Horse Association holds the safety and security of our guests and equine tenants in the highest regard. As we are guests at the JW Ruby Research Farm, please be sure to familiarize yourself with the Facility Rules early and often. Our goal is to provide an exceptional experience for horse and rider in a top quality environment that is both friendly and productive. If you have any questions or concerns, you are encouraged to ask so as to avoid confusion and any potential misunderstanding. Please call 304-478-1009.